Our reception service, within a government hospital compound, is accessible and well known. During the normal working week clients can contact the staff and thus access any aspect of our service. Appointments for the psychiatric services provided by the government staff as well as the psychological services are made with caring and attentive reception staff.

Our resource center is open to the public in the main department. We have a wide range of mental health books, journals and newsletters in English and internet services are available free of charge.  Translated materials in Swahili also provide information and education.  The resource center is a clean, quiet environment for student and clients to use for study, as a waiting area or for respite.

Our resource center and free Internet service is one small way to reduce stigma and to bring people to the department who do not have any mental health needs.  We – through the generosity of a local donor, Habari Node Marie- offer free Internet services to any member of the public. This is meant to be for educational searching and not for e-mailing friends! So it serves a dual purpose as an educational tool and, hopefully too, a challenge to the taboo of coming here.   This continues to be a well used service.

We also have a big classroom. We use this room for our monthly SIGMHA meetings and we provide trainings here.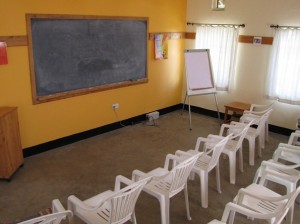 Donate
To join our Circle of Friends and Donors, and receive our newsletter by email, please write to info@amht.co.tz
If you would like to make a donation, please click here